Mt. Calvary Lutheran Church has been sharing the love of Christ with the mountain community for over 59 years! Whether you are old or new to the mountains, or just visiting, you are always welcome to worship and get connected to Jesus with us.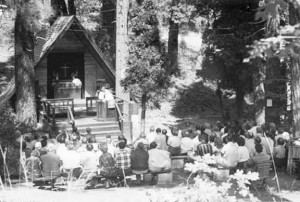 Mt. Calvary was officially organized in 1957.  Services met in a variety of locations, including the campfire ring at Arrowhead Lutheran Camp, the village in Lake Arrowhead, and in Twin Peaks, until the church purchased some property from Arrowhead Lutheran Camp and built its sanctuary in 1970 at our current location behind Rim High School.  In 1989 we opened our first preschool in Lake Arrowhead, and in 1998 we purchased and opened our second Preschool and Childcare 'Kid's Corner' in Running Springs.  In 2003 we added on to the original parsonage and rededicated it as our Ministry Center with offices and fellowship space.  In 2009, we completed our Early Education Center with new classrooms for our Preschool and began Kindergarten classes.  We now teach children up to 1st Grade in our Lake Arrowhead School.
Love God, Love Others, Serve the World
Our vision for Mt. Calvary is threefold:
Love God – We strive to love God by offering quality worship in three different styles and encourage everyone to get connected to growth groups, youth, and children's programs. We also yearn to have a strong prayer life and offer several prayer ministries to help people in their personal relationship with God.
Love Others – God's love for us overflows, and we hope to share His love with others.  Sometimes we get together to do fun things and share God's love with one another.  We also share His love with others. We offer a monthly food give-away and a food pantry.  We help those in grief to restore joy to those in mourning.  We offer Celebrate Recovery groups to help people with addiction issues.  And we serve children and families with two schools where we are able to share that God loves them "this much and more…"
Serve the World – We would like to encourage everyone to live a life of service in our community and around the world.  We are going to Guatemala to help a mission that reaches out to children whose families scavenge in a dump.  We support missionaries with Lutheran Bible Translators in Tanzania.  We help in weekend mission trips to Mexico.  We help fill shoe boxes for Samaritan's Purse at Christmas.