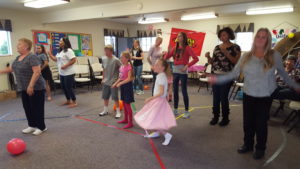 Join us on February 3 for a Sock Hop from 3-5 PM.  The whole church family is invited to come out and enjoy some great music and fun dances.  We'll be doing all of the old favorites such as The Chicken Dance, The Hokey Pokey, The Macarena, The Bunny Hop, and many more.  If you know how to swing dance, come and show the rest of us how it's  done!   We'll have some yummy snacks and minute-to-win-it games as well.
Admission is either some warm socks (new) for our homeless ministry or some canned food for our food pantry.  We will also be taking a donation for our mission trip to Guatemala, and you'll have an opportunity to make cards for the kids at Puerta de Esperanza in Guatemala City.
Let's love others and serve the world while having a good time together!